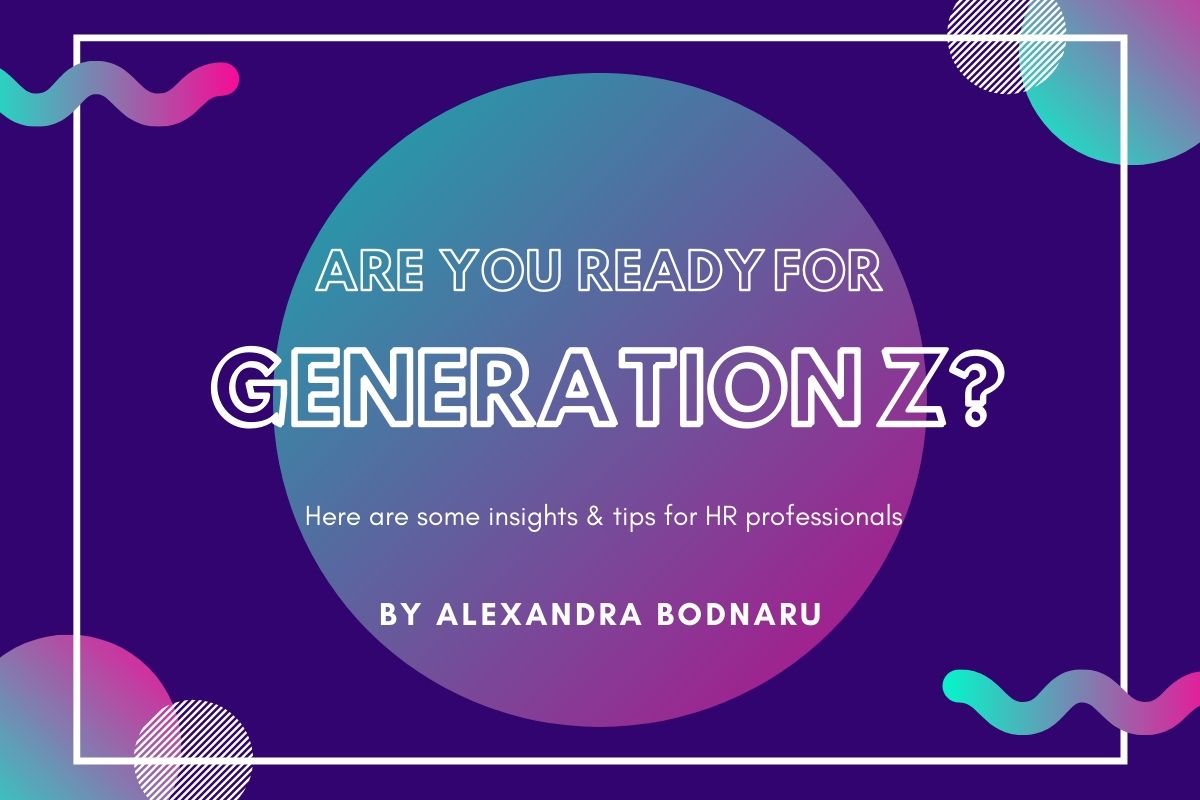 1. Meet Generation Z
Generation Z, also known as "Generation Me" or "Digital Natives", is represented by the individuals born between 1995 and 2010. In recent years a growing body of research focused on Z-ers' characteristics, since lots of them are now students and some of them have already entered the workforce.
The advancement of technology, the volatile economy and the social justice movements are some of the variables which have had a huge impact on the way generation Z has been shaped and have determined important differences between them and their predecessors (Millennials/Generation Y).
Compared to previous generations, Z-ers have had unlimited access to information. If they want to learn something, that's only one click away on their smart-devices. Probably the most relevant lesson they have learned by now was to embrace privacy in their use of technology, since they can easily recognize online threats (e.g. cyber-bullying). Another relevant characteristic is that they believe in their power to change the world. More specifically, they strive for equal humans rights, such as religious freedom, transgender rights, immigrantion policies or women's rights (Seemiller & Grace, 2017).
In this article, you will find out more about the learning perspectives and career aspirations of this technology-driven and society-oriented generation in order to provide them the means to change the world.
2. Preparing for the next generation of students
We already know that students of all ages expect to acquire the necessary skills for their future career through applied learning. But when it comes to generation Z, there are some aspects you might want to consider before you structure your lectures and classes.
Generation Z students learn by observation and practice. They are interested in concepts that have broader applicability to more than one class example and want to observe someone else completing specific tasks before applying themselves. The average generation Z individual has an 8-second attention span, so you have to be careful not to lose their interest while using video materials.
Another important characteristic is their preference for intrapersonal learning. More specifically, they want to think through a problem or project on their own first and after that to work with peers and instructors. They are also used to instant gratification and might easily get frustrated when the answers are not clear to them immediately.
To sum it up, the visual approach to teaching is more effective than others for generation Z students. Therefore, some useful teaching tips are:
Limit readings to include only necessary information and use readings that can be completed on tablets or smart phones;
Use mobile technology and apps when possible and encourage collaboration through use of social media sites;
Use interactive games such as Kahoot® and Socrative® and reinforce concepts with YouTube videos;
Connect generation Z students to internship opportunities.
(Shatto, 2016; Seemiller & Grace, 2017)
3. Understanding the needs of the new generation of employees
When it comes to career aspirations, passion is the keyword for generation Z. They have to love what they do in order to follow a specific career path. But we know that this is not enough to keep them in an organization. So, let's find out what's their perception of the ideal workplace and working conditions.
A romanian study with a sample of 156 University students from Z generation might offer an overview on this topic. However, the results should be treated with caution due to the small sample, which is not representative for Romanian generation Z.
The results show that when it comes to the ideal workplace, most of the generation Z representatives would like to work in a large international corporation (44.9%). Moreover, an equal percentage of the respondents expressed their preference for working in a midsize company or in a start-up (19.2%), while only 5.1% of them would like to work in an NGO.
Regarding the ideal workplace conditions, the survey indicates that most of the Z-ers would like to work in a large team or in an open-space (47.7%), while 34.6% would work independently, in a private office. A small percentage of the respondents stated they would prefer to work in a small-sized team, in a closed-door office (10.3%) and even less stated they would work independently but off-site (7.7%).
Last but not least, those are the top-priorities in choosing a full-time job for generation Z:
The possibility of advancement in a company (87.18% of the respondents)
The opportunity of being generously paid for their work (in 60.26% of the cases)
The job-security (in 43.59% of the cases).
(Iorgulescu, 2016)
4. What should an HR professional know about Generation Z
Generation Z is probably already part of your workforce. Here are our final tips that might help you improve engagement for your employees:
The new generation of employees expects diversity at work more than any other previous generation;
Generation Z is pragmatic: they focus on stable careers, economic security, privacy and better benefits;
Z-ers have entrepreneurial goals, so they value autonomy and innovation and managers might encourage that;
They prefer in-person communication with leaders. 51% of generation Z respondents said they prefer face-to-face feedback from leaders (Schawbel, 2014).
(Lanier, 2017)
References:
Iorgulescu, M.C.(2016). Generation Z and its perception of work. Cross-Cultural Management Journal, 1, 47-54.
Lanier, K. (2017). 5 things HR professionals need to know about Generation Z: Thought leaders share their views on the HR profession and its direction for the future. Strategic HR Review, 16(6), pp. 288-290. doi: 10.1108/SHR-08-2017-0051.
Seemiller, C. & Grace, M. (2017). Generation Z: Educating and Engaging the Next Generation of Students. Retrieved from: doi: 10.1002/abc.21293.
Shatto, B & Erwin, K.(2016). Moving on From Millennials: Preparing for Generation Z. The Journal of Continuing Education in Nursing, 47(6). doi:10.3928/00220124-20160518-05.